3R INITIATIVES
Lithium-ion batteries are ecological applications that do not emit CO2 when used as power sources.
However, the life cycle of a lithium-ion battery, from the process of making the battery to the disposal of the power supply when it has finished its role, imposes various environmental burdens.
Under such circumstances, there is a growing trend to promote the "reuse" of lithium-ion batteries that have completed their role as a power source for EVs and will be converted into products developed by our company.
ENAX will take on the challenge of reducing environmental impact to the maximum extent possible, not only through "reuse" but also as part of our overall lifecycle responsibility, based on the technologies we are pursuing.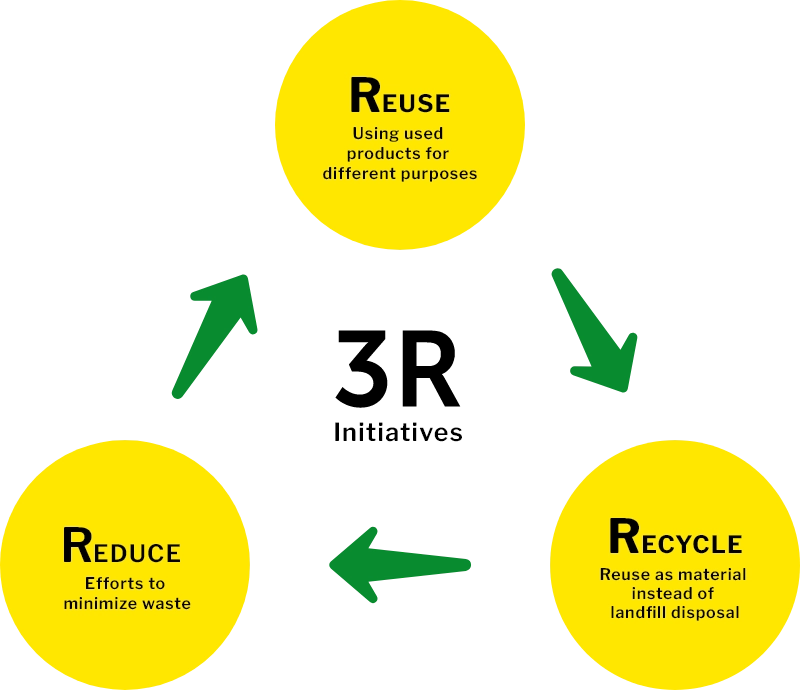 REUSE: 
Using used products for different purposes
Reuse (Diversion) of used lithium-ion batteries
Batteries used in EVs and other vehicles are disposed of after a certain degree of deterioration from a safety perspective, but depending on the degree of deterioration, they can be reused in other applications. For this reason, a scheme is being developed to reuse batteries that have reached the end of their useful life after being used in EVs and other vehicles for other applications.
REDUSE: 
Efforts to minimize waste
We are constantly working to extend the service life of batteries and to improve the yield rate.
Continuing these efforts will lead to the reduction of waste.
RECYCLE: 
Reuse as material instead of landfill disposal
Design for environment
In December 2021, we were certified under the wide-area certification system.
We are working on Design for Environment to increase the recycling rate by making the structure easy to disassemble by hand when the batteries are used in various applications and finally disposed of, and by recycling the materials used in the batteries until the very end. (Elimination of waste)
APPLICABLE SDGs

Target:12
Ensure sustainable patterns of production and consumption
Ensure sustainable consumption and production patterns
SDG Targets to be covered
12.4 By 2020, achieve environmentally appropriate management of chemicals and all wastes throughout the product life cycle in accordance with agreed international frameworks, and significantly reduce the release of chemicals and wastes into air, water and soil to minimize adverse effects on human health and the environment.

Target: 17
Achieve our goals through partnerships!
Strengthen the means of implementation and revitalize global partnerships for sustainable development
SDG Targets to be covered
17.6 Improve North-South and South-South cooperation and regional and international triangular cooperation on science, technology and innovation (STI) and access to these. Also, promote knowledge sharing on mutually agreed terms through improved coordination among existing mechanisms, including at the UN level, and through global technology promotion mechanisms.