WORKING WITH COLLABORATIVE PARTNERS
Global expansion through collaboration with EMS is possible.
(EMS = Electronics manufacturing service)
We realize "Japanese quality" and "quick development lead time" by conducting all processes from development/design to production start-up in Japan.
Furthermore, we utilize reliable overseas EMS (Electronics Manufacturing Service) companies to provide a cost-effective mass production system optimized for the scale of your business.
We realize Japanese quality by thoroughly controlling product quality settings, manufacturing quality settings, design support, and evaluation support from Japan.
We can also accommodate changes or relocations of production sites at the request of our customers. In such cases, we can seamlessly transfer production between multiple production bases in Japan and overseas without compromising quality. This enables continuous production to be maintained as a BCP measure against the recent pandemic.
Example: Global supply chain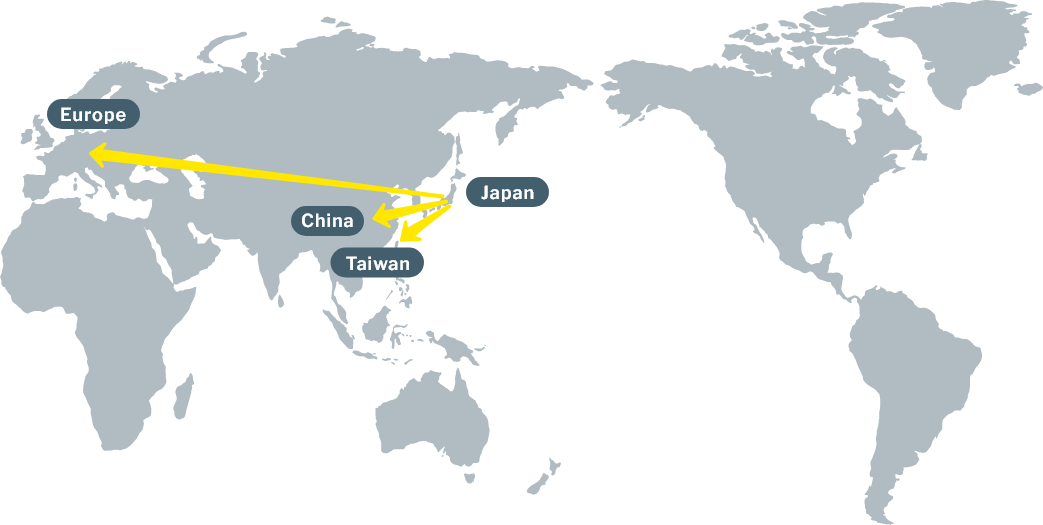 APPLICABLE SDGs

Target:12
Ensure sustainable patterns of production and consumption
Ensure sustainable consumption and production patterns
SDG Targets to be covered
12.4 By 2020, achieve environmentally appropriate management of chemicals and all wastes throughout the product life cycle in accordance with agreed international frameworks, and significantly reduce the release of chemicals and wastes into air, water and soil to minimize adverse effects on human health and the environment.

Target: 17
Achieve our goals through partnerships!
Strengthen the means of implementation and revitalize global partnerships for sustainable development
SDG Targets to be covered
17.6 Improve North-South and South-South cooperation and regional and international triangular cooperation on science, technology and innovation (STI) and access to these. Also, promote knowledge sharing on mutually agreed terms through improved coordination among existing mechanisms, including at the UN level, and through global technology promotion mechanisms.