Pre-production trial
Pre-production / PP
01

Planning

We will listen to your requests

We will listen to your requests
Pre-production prototyping is the stage of small-lot production of prototypes completed in functional prototyping.
A production line is constructed, and the parts and materials used in the mass-produced product are used to perform small-lot production for the transition to mass production to confirm that there will be no problems with mass production.
By actually performing small-lot mass production, we verify whether there will be any problems in transitioning to mass production.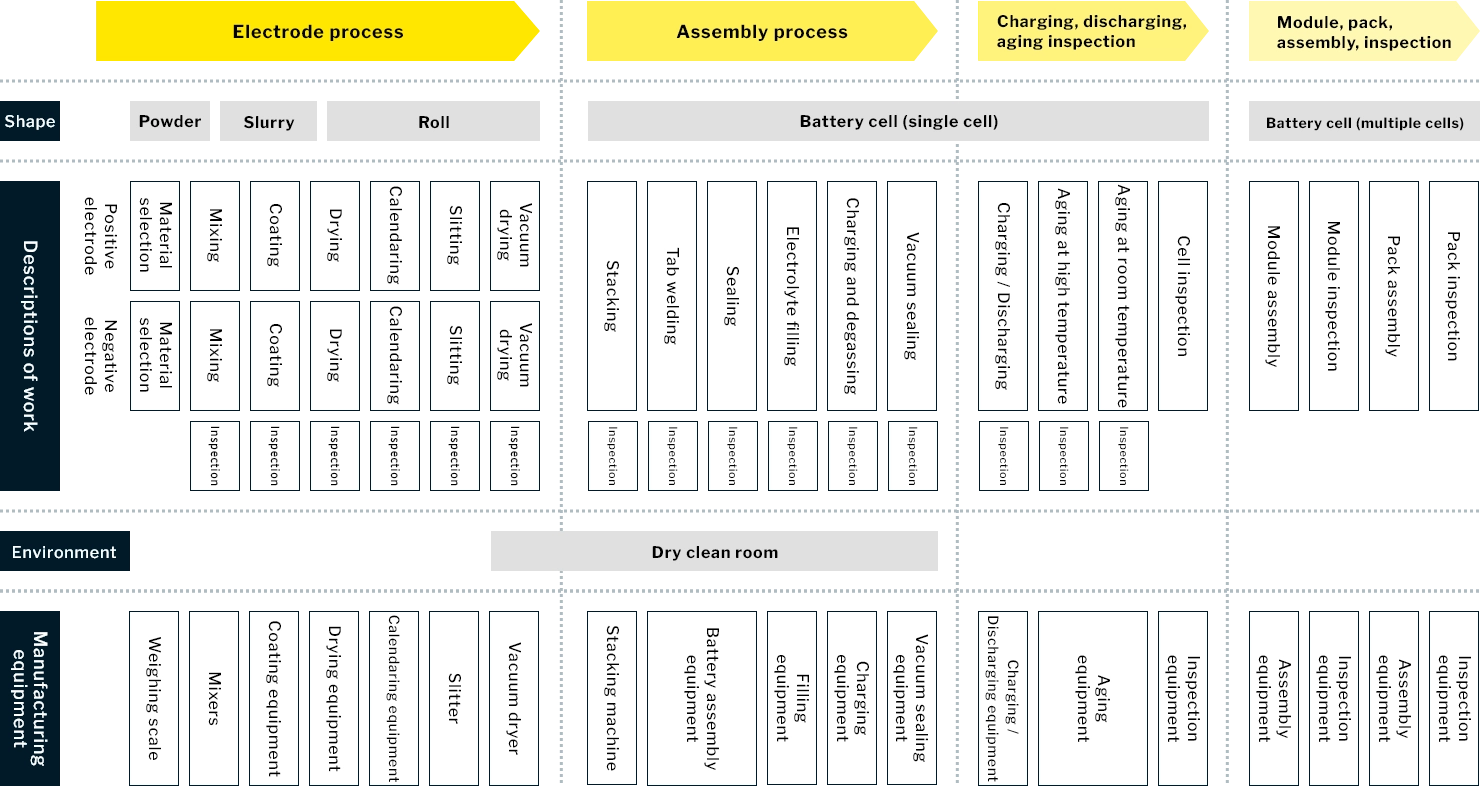 Details of trial production
Production process design for pouch cells
We perform line design, maintenance, manufacturing process verification, and build a quality control system from electrodes to pouch cells for mass production. We can also accommodate small-scale continuous production upon customer request.
Specifically, we design manufacturing processes, manufacturing lines, work safety, product inspection contents and inspection process studies, maintenance and calibration of manufacturing equipment, design and development of specialized jigs and tools, maintenance of procedure manuals, PL, QC, etc., and verification of process capability as technology transfer to mass production plants.
Design and development of battery pack unit
We design feedback from the evaluation results of the functional prototype and invest in mass production molds and manufacturing facilities.
In addition to the quality evaluation agreed upon during the functional prototyping phase, we also conduct safety testing and obtain safety certification.
For mass production, the line will be built by EMS, but we will set up the requirements and introduce our know-how for all special battery processes, including jigs and tools and production technology.
The selection of EMS is based on the customer's request, and can be domestic or international.
As a verification of actual equipment installation, we will actually prepare a mass production line and conduct small-scale production (mass production process development) of products installed on actual equipment.
We can also help you solve other problems according to your requirements.
We can also provide individual consultation on delivery time according to size and quantity.